Newspaper holders/news in brief
Hi folks, and welcome back to my news and media blog. I recently re-subscribed to lots of newspapers which I used to subscribe to but after buying a kindle I was reading them all on that. I missed the feeling of picking up a newspaper and flicking through the pages, plus the smell of freshly printed ink, there is nothing quite like it. Me and my husband had thoroughly missed sitting at the breakfast table swapping papers back and forth. However, I had forgotten about how annoying it can get having newspapers sitting on the dining room table without any home to go to. So I had a quick look online and found a great second hand vintage newspaper holder fromwww.for-sale.ie/newspaper-holder. I love it. One of the other additional things I have missed reading on my kindle are all the little stories that you skip past, so I wanted to share some of these with you from this week.
Week in brief with a difference.
1. Terminally ill 14 year old has won the right to be cryogenically frozen.
In a landmark legal bid a 14 year old girl who has a rare form of cancer has won the right to decide what happens to her body when she dies. Being too young to make a will she asked her parents to help her upon her death, and although her mother supported her decision her father opposed it. Justice Peter Jackson, the presiding judge, visited the girl in hospital and said he was moved by the 'valiant way' she faced her 'predicament' and that upon her death she 'died peacefully in the knowledge her body would be preserved in the way she wished'. Writing about why she wanted to be preserved this way she said "I have been asked to explain why i want this unusual thing done. I am only 14 years old and I don't want to die but I know I am going to die". "I think being cryo-preserved gives me a chance to be cured and woken up – even in hundreds of years' time. I don't want to be buried underground. I want to live and live longer and I think that in the future they may find a cure for my cancer and wake me up."
"I want to have this chance. This is my wish." Upon her death her body has been moved to the US and will be preserved there.
2. Tesco boss publicly shames suppliers.
Following Marmitegate, and Tobleronegate, Dave Lewis, the boss of tesco and a previous long term (28 years) emlpoyee of Unilever, has slammed large corporations and consumer goods giants for attempting to hike the prices up of everyday goods after the row over Marmite. Lewis has accused these large suppliers of passing on the costs to shoppers and consumers, and said that he "wouldn't hesitate to remove products from his shelves."
3. US Dollar has reached a 14 year high.
Crazily enough Trump being elected as President of the United States has only helped the dollar go from strength to strength. Initially falling when the election result was made, the US dollar has surged by as much as 4%, and predominantly in countries where the US has the most trade. Anticipating an enormous spending spree, of which Trump has promised to be worth $1 Trillion , the short term economy was boosted in the US.
4. Post Brexit foreign workers in the U.K.
Just under 95% of all new workers in the U.K. were foreigners as the employment rate in the U.K. reached an all time high. A surge of foreign born workers brought on possibly by the recent European Union expansion made up for just over 430,000 out of the 454,000 people newly employed in Britain between July and September of this year.
5. Maltesergate
And if you're still upset following Marmitegate and Tobleronegate I'm afraid there's more bad news for you. Mars appear to have reduced their large sized packs of goodies, taking their 121g pack of Maltesers down to 103g, a reduction of 18g or 14.8% and if you're a Galaxy Counter lover there's still bad news with the 126g back reduced down to 112g, a 14g reduction or 12.4%. A spokesperson at Mars said "Like all chocolate manufacturers, we have seen the cost of raw materials rise and, while we try to absorb these pressures as much as possible, sometimes we have to make the difficult decision to reduce the size of some of our products so our consumers can continue to enjoy an affordable treat."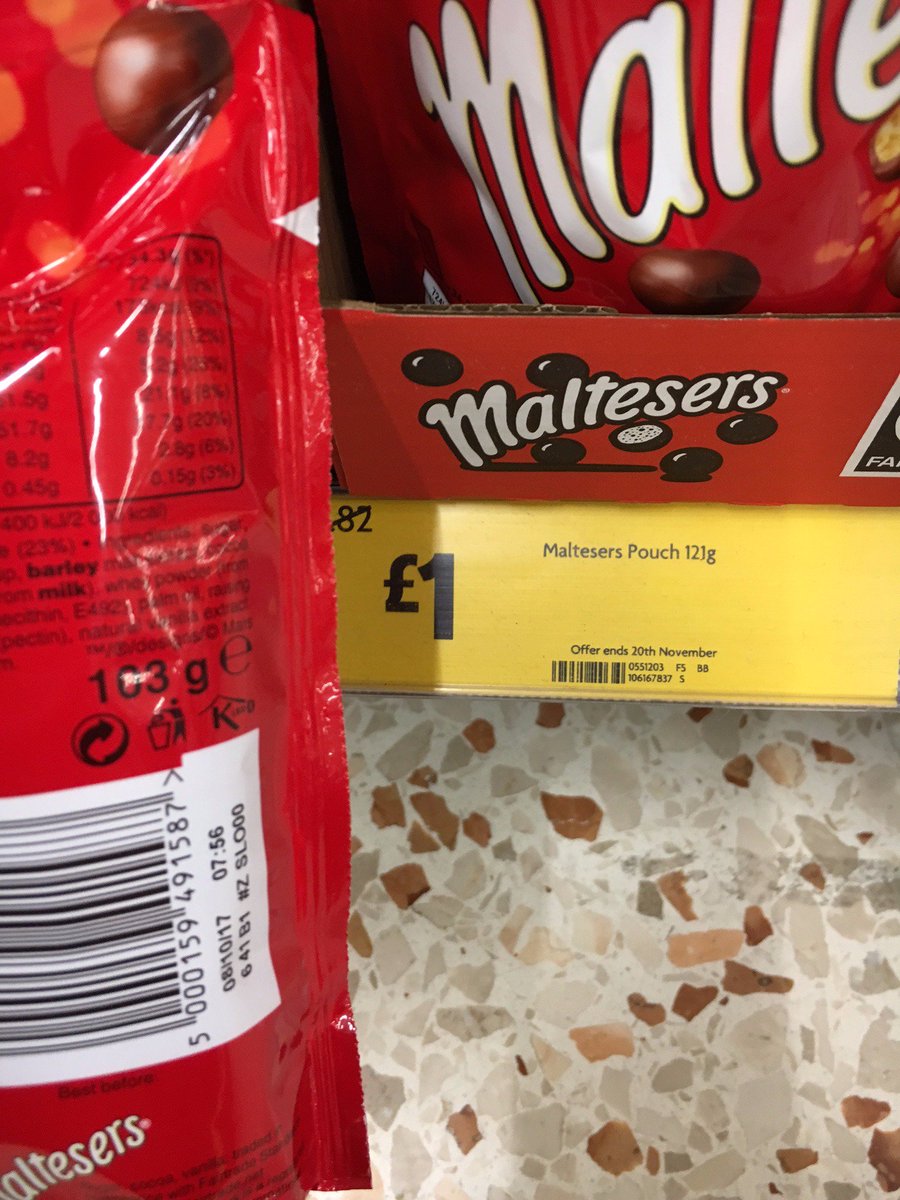 If you'd like to read some more interesting news pieces from this week check outhttp://www.independent.ie/irish-news/ which has some great pieces focused around Ireland.
Thanks for reading everyone, I hope you've all had a lovely week and weekend. If you're interested in checking out any other recent blog posts I would recommend this great one by a fellow blogger where they discuss the merits of using an eReader